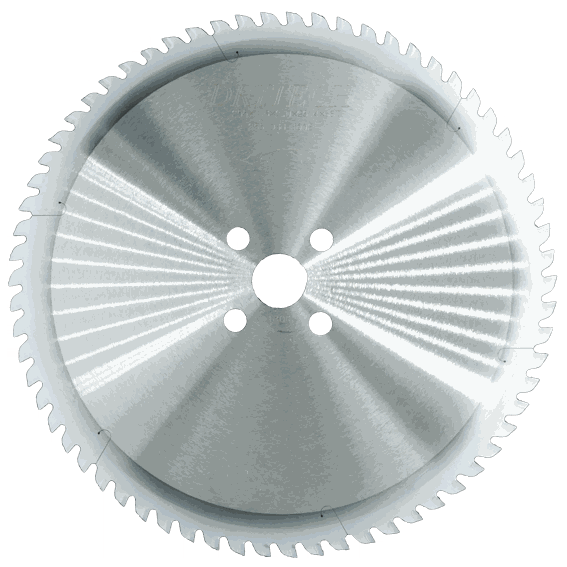 With their special coating, our exclusive saw blades are ideal for cutting stainless steels in the food and construction sectors.
Compared to standard saw blades, they have lower cutting costs and an up to 3 times longer service life. They have low friction and the material cannot tarnish.
The coating of our NSF saw blades:
The NSF saw blades are processed with an aluminum-titanium-chromium nitride layer, so that they are also ideally suited for the special application with materials that tend to stick.
The silver-colored layer is characterized by high hardness and resistance to oxidation.
In addition, the NSF saw blade is designed to minimize the tendency to adhesion when machining Al alloys and non-ferrous metals. From the saw blade size Ø 230 mm up to Ø 355 mm, the NSF saw blades are suitable for stainless steel in the areas of food and construction.
DATA & RANGE OF NSF SAW BLADES
| | | |
| --- | --- | --- |
| | material | Aluminum-Titanium-Chromium-Nitride, AlTiCrN (stacked) |
| | micro hardness HV 0.05 | 3.000 +/- 300 |
| | friction coefficient against 100Cr6 steel | 0,4 |
| | maximum operating temperature | 800° C / 1.470° F |
| | thickness | 2 - 4 µm |
| | | |
| --- | --- | --- |
| NSF saw blade | refernce | e-shop |
| Ø 9" x 0,079" x 1" x 48T | 72123048NSF | |
| Ø 10" x 0,079" x 1" x 66T | 600654NSF | |
| Ø 12 5/8" x 0,087" x 1" x 84T | 608276NSF | |
| Ø 14" x 0,087" x 1" x 90T | 600570NSF | |