DRYTECH
®

High Speed Metal Cutting Saw Blades
Dry - fast - burr free

Carbide or cermet tipped saw blades are suitable for high speed stationary semi-automatic and full automatic cutting units.
Fast cutting, burr free and without coolant of pipes and profiles made of steel,
stainless steel, plastics, compound materials, aluminum and other non-ferrous metals.
The Drytech saw blades are able to cut diverse kinds of material and shapes due to a wide range of different geometries (trims, tubes, shutter profiles, sandwich panels, window profiles and airing profiles etc.). The special tooth shape guarantees a perfect cutting surface and a long cutting life of the blade.

Advantages are:
Shortest cycle times due to high cutting speed

Material saving through thin cut technology with wall thickness starting from .02"

Very high durability

Excellent cutting quality

Up to 5 times resharpenable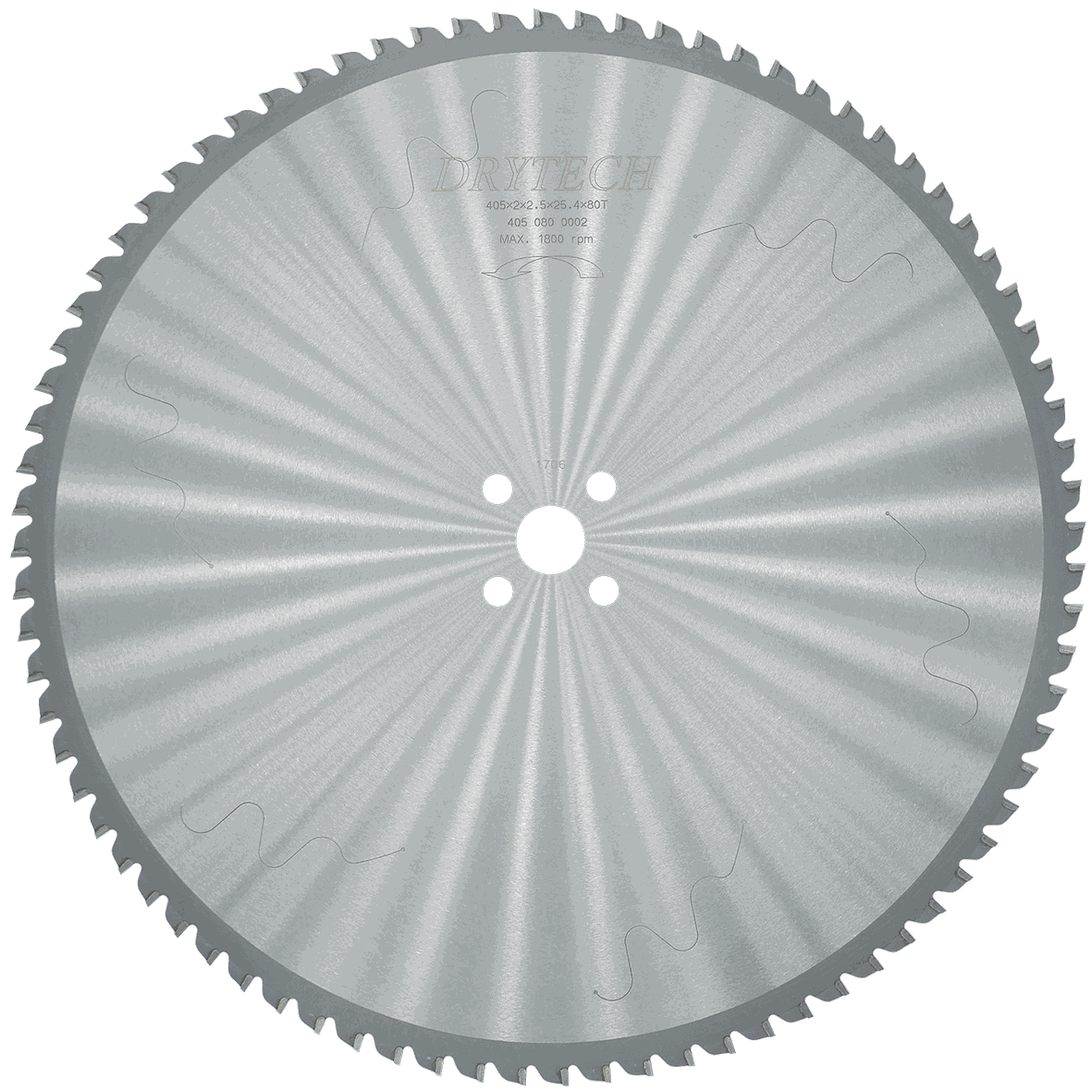 | | | | | |
| --- | --- | --- | --- | --- |
| Ø [in] | Arbor size [in] | Kerf [in] | Teeth | Reference |
| 16" | 1" | .098" | 80 | 4050800002 |
| 16" | 1" | .098" | 102 | 4051021003 |
| 18" | 2" | .13" | 100 | 4551000002 |
| 18" | 2" | .13" | 120 | 4551201003 |
| 22" | 2" | .14" | 120 | 5601200002 |
| 22" | 2" | .14" | 132 | 5601321003 |
| 22" | 2" | .14" | 180 | 5601801004 |
| 25" | 2.362" | .16" | 140 | 630140002 |
| 25" | 2.362" | .16" | 150 | 6301501003 |
| 25" | 2.362" | .14" | 210 | 6302100003 |